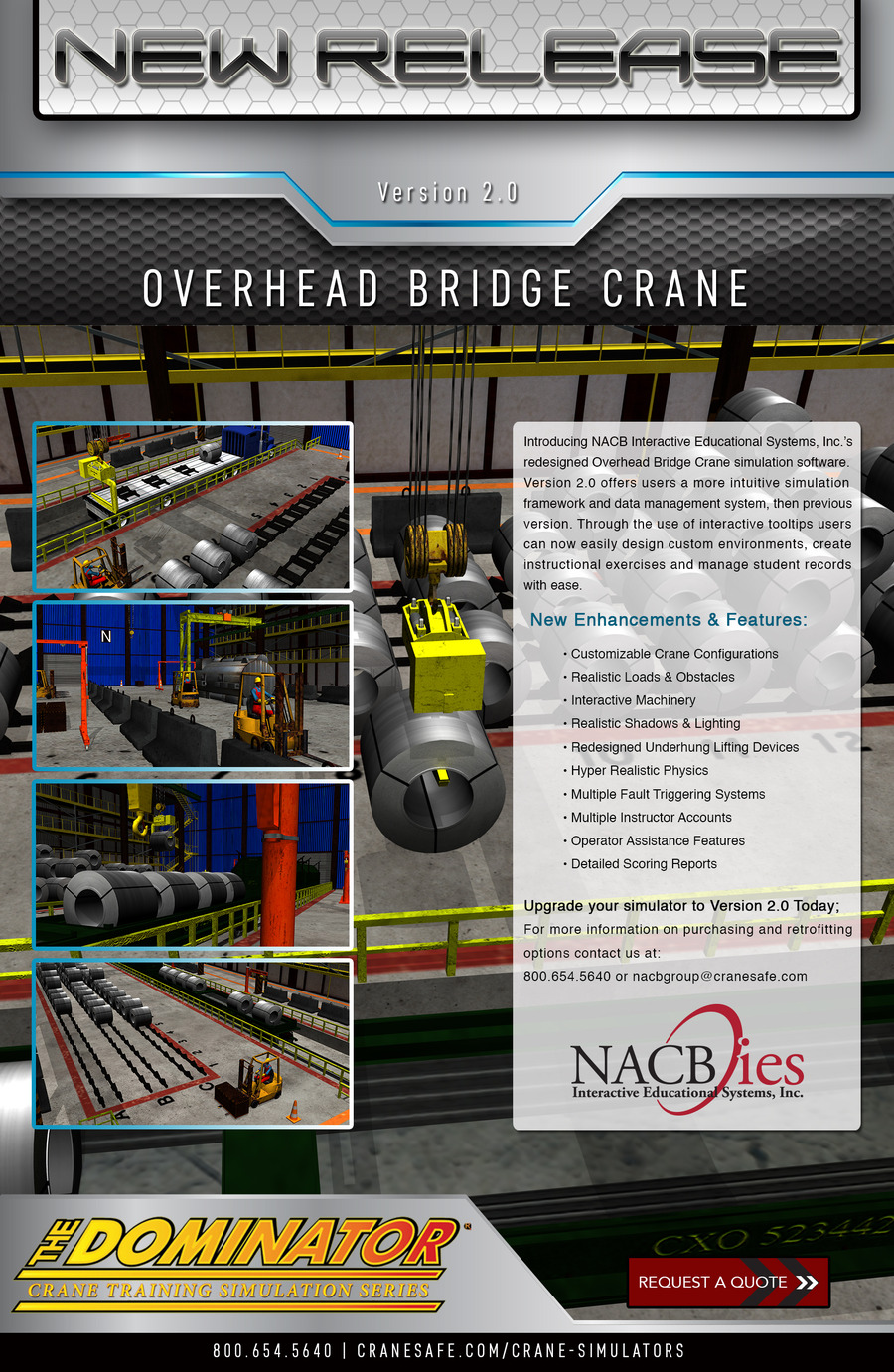 Crane Simulators
Every industry needs cost effective, quality operator training without interfering with production, without compromising safety, and without causing undue wear & tear on equipment. NACB Interactive Educational Systems, Inc. has designed multiple crane training simulators with this in mind. Our Mobile Telescopic Boom Crane Simulator, Overhead Bridge Crane Simulator, Tower Crane Simulator, Desktop Personal Simulator and our newest addition, the Mobile Lattice Boom Crane Simulator are the latest technology in simulation training for NACB-IES.
Benefits of Simulation
Cost Reduction 
With simulation training, your investment is significantly reduced when it comes to training your operators. You can never completely replace real seat-time with a simulator however, simulators have proven to reduce the demands and costs on actual production equipment; while improving skills quicker, allowing operators to become more skilled and productive in the field, which contribute to saving money in the long run.
Experience 
It is difficult to give apprentices the real seat-time they need to understand the equipment entirely. Simulators allow students to log extra hours with less supervision and very little cost. It also allows operators to experience new work challenges that could be expected.
Worksite Efficiency 
Simulators help reduce training time, and produce more efficient operators. Through repeated maneuvers, operators acquire crucial skills quickly. Learning on a NACB-IES simulator means they make fewer mistakes and are more efficient on the job.
Reduce Maintenance
Maintaining a fleet of heavy equipment is costly. Even with the best training, students make mistakes and cause wear and tear. Simulators reduce maintenance costs and reduce the demand on equipment resources.
Classroom Portability
NACB-IES simulators are designed to fit into existing classrooms. They are compact and portable. They do not require special infrastructure or maintenance.
NACB-IES Crane Simulators Provide:
Uninterrupted availability for hands on training
Increased safety awareness
Increased productivity
Training with various loads and situations
Detailed training log
NACB Interactive Educational Systems, Inc.'s advanced crane simulation training systems include:
Multiple Testing Modes: Practice, Edit, Playback, Enhanced Training
Built in Analysis & Record Keeping
Parameters: Wind Conditions, Speed, Intensity, Rain, Lightning, Time of Day
System Training Scenarios: Practical Certification Test, Building, Construction Site, Highway Bridge Construction Site, Power-Line Areas
Financing Available:
Preserving working capital is one of the most prevalent reasons for leasing. However, there are more advantages. Depending on the type of lease plan selected, significant cash flow, tax, administrative and operational advantages can be realized. These may include:
Use of Equipment - Leasing offers immediate use of the equipment for an agreed upon, low, monthly payment, rather than a large, up-front, cash outlay.
Financing of soft costs - Expenses associated with equipment usage such as shipping, installation, training, maintenance and software may be included in the lease agreement. 
Preservation of bank credit lines - Leasing won't tie up existing lines of credit. They remain intact to fuel growth, or to meet other operating expenses. 
Flexible end-of-lease purchase or renewal options - Options may include purchasing the equipment, upgrading to new equipment, or continuing to lease at substantial savings Preservation of working capital - Low initial costs and flexible payment schedules, tailored to specific cash flow requirements minimize the drain on a business' working capital. 
Video:
Frequently Asked Questions:
NACB Interactive Educational Systems crane training simulators are designed by crane operators, FOR crane operators. With that in mind we set out to create a balance between realism and affordability. The objective was to allow the majority of the industry to afford the utilization and advantages of simulation training. Having a safer and more effective workforce was the goal. Approximately 99% of crane operators who use our large scale simulators for the first time, state that the system is "very realistic."
Our large scale simulators allow for a virtually unlimited number of users to be added and tracked in the system.
Our large scale simulators allow for a virtually unlimited number of exercises and variations to be added, edited, stored and used.
There are two different types of IES simulators; the very portable desktop design, and the large scale simulator. Obviously, the desktop unit is designed with portability in mind. The desktop unit has an optional custom designed travel case. The large scale simulators are designed to be set in a training environment, and remain fairly immobile. The large scale units, with the exception of the Overhead Bridge Crane simulator, is designed with wheels and a size that allow for ease in mobility if movement is necessary.
The large scale training systems are designed to allow for printed training reports. The desktop units are not, however, print screens of the trainee scores are obviously and option.
There is currently not an APPROVED "Certification" in place for crane operators which utilizes a crane training simulator. However, companies world wide are using the simulators to not only "train" their operators, but to "qualify" that operator. That being said, employers do make the decisions based on the training criteria setup and used in the simulators, and the scores from the exercises.
This is not an advertised option for these units. If this is a requirement of the buyer, an additional fee if applicable, and must to be disclosed as a need at acquisition time.
The large scale training simulation systems allow for unlimited creation of exercises. Exercises can vary greatly, and is virtually only restricted by a trainers imagination. The desktop simulators utilize a skeleton version of the large scale simulator, and can not be customized in any fashion.
Most IES simulators have the ability to have the language in Spanish. Please check with the selling representative to ensure the model you desire has the option of being in Spanish.
If the simulator has spanish available, the manual will be in spanish as well.
Large scale mobile crane simulators may have the option to add an alternative boom type software module, depending on version levels; ensure you check with the selling representative if you are interested in this benefit. No 3rd party software is to be added to the crane training simulator. If 3rd party software is added, the risk of voiding the service plan and /or warranty is highly probable.
On large scale systems, yes.
NACB does not custom design software. NACB's desire is to help teach lifting, and load control in varying scenarios. NACB may consider very small add-ins to the software; please discuss this matter with the selling representative.